By: Kerting Baldwin

NEGRIL, Jamaica – Jamaica's pristine, blue waters and its soft ocean breeze often inspire prayer and personal reflection for Br. Raphael Ozoude, OFM. Yet, it is the people he meets who inspire in him a sense of fraternity in the daily service of delivering communion, feeding the hungry and guiding the youth. For him, it's a true Franciscan experience in the backdrop of one of God's most beautiful island creations.
01: Friars minister to the community by going out and being present in a variety of ways.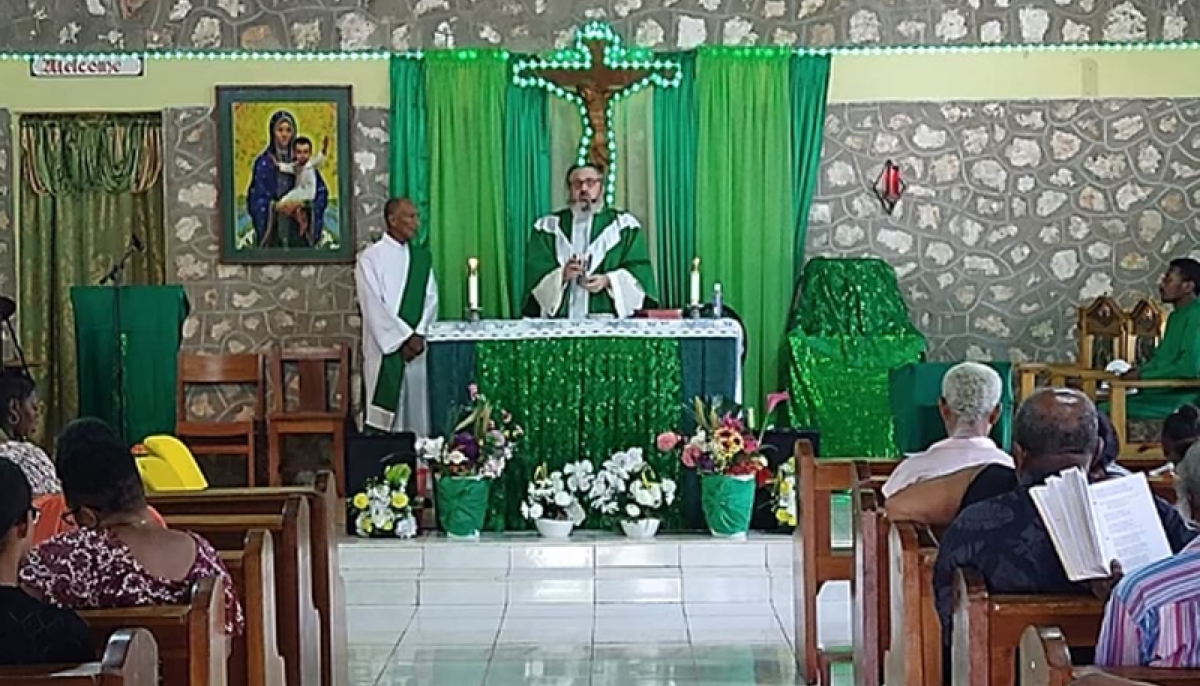 02: The community in Jamaica gathers for Mass as Br. Colin King, OFM, marks his sixth anniversary as a priest.
"A distinction in serving here in Jamaica is that it invites us to go and meet the people, which is different than in the United States where parishioners often come to look for the priest in the parish. In Jamaica, it feels as if one is participating in the call for the church to be a field hospital that goes out to heal people's wounds and lead them towards a stronger communion with their brothers and sisters," Br. Raphael said. "Even though many residents experience much poverty and illness, there is an unquenchable joy that they have when they pray, especially in the presence of Our Lord in Holy Communion, and this joy is very contagious."
Recently, Br. Raphael shared his own insights about Franciscan life and service in the third largest island of the Caribbean.
What impact are the friars having in Jamaica?
Our presence and ministry are transforming lives. We provide a "get-kids-to-school" program, where we mentor and sponsor children from primary (elementary) school through tertiary education. Our program – in collaborative leadership with lay volunteers – endeavors to guide these little ones along their journey, especially those who do not have a suitable family network that can encourage them to persevere. So far, we've had some success, as some of our children have finished their university degrees, while others are looking very promising. We have also connected some of the young ones with parishioners and members of the local rotary club so that they can provide employment and guidance to the youth.
Why is there a need for more friars in Jamaica?
More friars are needed here as the harvest is rich, but the laborers are few. One of the much-needed ministry opportunities here is mentoring and accompanying the youth through their integral human development. Most recently, a young man about my age shared with me that for nine days he had not taken any alcohol or cocaine, but he was discouraged by the fact that no one seemed to care either about his attempt to change his life or about him in general. Many like him need therapy, counseling, and other forms of social care, which many U.S. friars have either professional experience with or experience through their ministries. Their skills would make a world of difference here. The more friars we have here, the more we can accompany young people in their human development and on their walk with God.
We can't serve them without you. By making a donation, you ensure our work can continue
How do friars work with community partners in Jamaica?
As a community, we pray for one another's ministry and support other members in the fraternity. We also draw on the resources of lay or religious volunteers. For example, when we visit the sick and homebound, we go together with a few members of the parish. Likewise, our "get-kids-to-school" program and all our work attracts and uses the gifts and energy from the community. This helps us to make the entire community a contemplative fraternity in the mission that the Holy Spirit carries in and through us.